Founding Donors
The Tanenbaum Institute for Science in Sport (TISS) is possible thanks to a generous gift from the Larry and Judy Tanenbaum Family Foundation.
I truly believe that sport unites us, inspires us, and offers all people a path toward becoming their best selves. Judy and I are honoured to help the Tanenbaum Institute bring together sports medicine, sport science and data science to encourage athletic engagement, enhance performance and accelerate recovery and rehabilitation.

Larry Tanenbaum O.C., chairman of Tanenbaum Family Foundation and MLSE
As one of Canada's premier leaders in Canadian sport and chair of Maple Leaf Sports and Entertainment, Larry Tanenbaum knows well the importance of discovery science in advancing the health and performance of elite athletes.
So, when Mr. Tanenbaum was first approached on the prospect of bringing together three globally top-ranked leaders in their fields—U of T's Faculty of Kinesiology & Physical Education, the Temerty Faculty of Medicine, and Sinai Health System—he immediately saw its potential to transform sports science and medicine in Canada and beyond.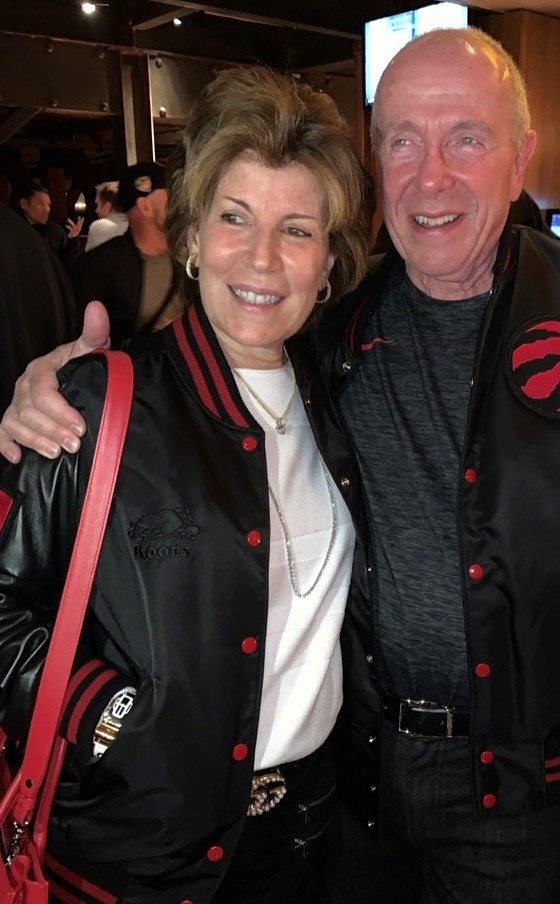 Larry and Judy Tanenbaum and the Tanenbaum Family Foundation's transformative $20-million gift in 2022 helped found the Tanenbaum Institute for Science in Sport, which is yielding new knowledge at the intersection of research and practice, translating discoveries into innovations that dramatically impact health and performance across all athlete populations.
The Tanenbaum Institute for Science in Sport represents the latest transformational benefaction in a long and impactful legacy. Larry and Judy Tanenbaum and the Tanenbaum Family Foundation are known for their extensive philanthropy, including at the University of Toronto and Sinai Health.
In 2014, they helped establish the Anne Tanenbaum Centre for Jewish Studies at the Faculty of Arts & Science, one of North America's leading programs of its kind. They have also established several scholarships in support of student-athletes. At Sinai Health, Larry and Judy Tanenbaum have made several transformative investments. In 2013, the Tanenbaums gave $35 million to rename the Lunenfeld-Tanenbaum Research Institute, accelerating Sinai Health's biomedical research institute.
Larry and Judy Tanenbaum have also made major gifts in support of cutting-edge physical and mental health research across Canada. Their generosity led to the creation of the Tanenbaum Open Science Initiative at McGill University and the Tanenbaum Centre for Pharmacogenetics at the Centre for Addiction and Mental Health.
Our Partners
TISS is a partnership between the Univeristy of Toronto's Faculty of Kinesiology and Physical Education, Temerty Faculty of Medicine and Sinai Health System's Dovigi Orthopedic Sports Medicine Clinic and the Lunenfeld-Tanenbaum Research Institute.
These partners together will continue to produce a wealth of data and knowledge from the sport medicine and academic health sciences communities across the Greater Toronto Area to improve health outcomes and predict athlete performance. They will become a conduit to many other researchers and centres of excellence within the University of Toronto, Sinai Health, and the Toronto Anademic Health Sciences Network.
TISS also aspires to establish partnerships and collaborations with other sport medicine clinics, high performance sport associations and organizations, including Maple Leaf Sports & Entertainment (MLSE) and its professional teams and training centres: e.g. the Toronto Maple Leafs, Toronto Raptors, Toronto FC and the Toronto Argonauts, as well as the Toronto Marlies, Raptors 905 and TFC 2.
The research from TISS will play a leading role in advancing high performance sport in a manner that is safe, welcoming, inclusive and accessible to all. We are proud to be part of this important research enterprise that pools together our academic research, large and diverse athlete base, and training facilities with the world-class clinicians of Sinai Health.

Dr. Gretchen Kerr, Dean of the Faculty of Kinesiology & Physical Education, U of T
The Tanenbaum Institute will enjoy a remarkable headstart, thanks to the amazing research and clinical sports medicine leadership we have amassed here at Sinai Health through the Dovigi Orthopaedic Sports Medicine Clinic and across U of T. Establishing this landmark Institute is only the beginning. We look forward to transforming high-performance sport together with our many industry, government, and community partners.

Dr. Gary Newton, President and CEO of Sinai Health
We're incredibly excited by the potential for the Tanenbaum Institute for Science in Sport to transform sports medicine across Canada and to train future generations of sport science and sports medicine leaders. By bringing together so many disciplines, the Tanenbaum Institute will produce breakthrough big data-driven findings that will lead to better athlete health, safety and performance.

Dr. Trevor Young, Dean of the Temerty Faculty of Medicine, U of T